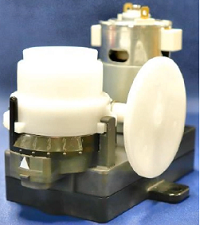 We are pleased to announce the launch of state-of-the-art IP1 series coffee mill.
The coffee mill is an instrument for grinding coffee beans,
and it has been using for coffee machines and vending machines in Japan.


Continue Reading
Our office will be closed from 10th to 18th August due to summer holidays.
Thank you for your cooperation.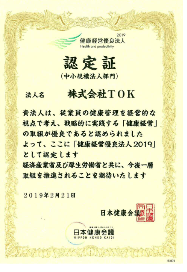 TOK was certified as "Health management excellent company 2019" by the Nippon kenko kaigi.
The Nippon kenko kaigi is an organization which consists of economical party, medical party and insurers party etc., and which was established to extend a healthy lifespan and to enlighten appropriate health care.


The award is presented to company which places importance on workers' health and productivity.
Continue Reading
April 26, 2019 NEWS RELEASE
Notice : Japanese holidays

We will be closed from Apr 29th to May 6th due to Japanese holidays.
Thank you for your cooperation.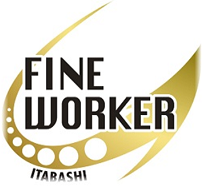 Our company 3 employee were selected "Itabashi outstanding technician and engineer" by Tokyo shoukou kaigisyo(The Tokyo Chamber of Commerce and Industry).
This is awarded system which community combined economic organization commend superior employee.
Continue Reading
We would like to introduce our new product SR8 to you.
SR8 gives you a stop-function for several applications.
For now we would like to explain you the function with sliding door as example.
When door is closed quickly, thanks to SR8 it will prevent from accidental pinching your fingers.
Continue Reading
February 6, 2019 NEWS RELEASE
TOK Exhibits the Mechanical Components & Materials Technology Expo
We are excited to announce that TOK exhibit at the Mechanical Components & Materials Technology Expo, in Tokyo Big Sight, From February 6-8.
This is one of the largest exhibitions in Japan.
Continue Reading