December 11, 2018 PRODUCTS NEWS
State-of-the-art SRX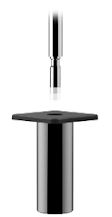 SRX is a state-of-the-art unit system for simple attach/detach purpose.
SRX provides secure fastening solutions with one hand and one push.
Continue Reading


TOK announce that we set up LinkedIn official page.
Continue Reading

We would like to inform you that TOK has updated the certificates for ISO9001 and ISO14001. TOK acquired ISO9001 in 1999 and ISO14001 in 2000; respectively, 19 years and 18 years have already passed.
Continue Reading
We are proud to present our new damper, TD130. It is the smallest damper in TOK so really convenient and versatile damper. TD130 responds your request in miniaturization. The quality of TD130 is guaranteed!
Continue Reading
June 15, 2018 PRODUCTS NEWS
TOK Exhibits at Manufacturing World Japan
We are excited to announce that TOK will exhibit at the 29th Manufacturing World Japan at Tokyo Big Sight from June 20th to 22nd. We will show our standard products like rotary dampers and bearings, and also our new developments SR2 and SRX! We are
Continue Reading
February 19, 2018 NEWS RELEASE
Thank you for visiting TOK's booth at the Pacific Design & MFG Expo 2018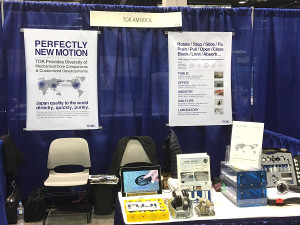 Thank you for stopping by our TOK booth at the Pacific Design & Manufacturing Expo 2018. It was great opportunity to meet all of you, and we are looking forward to support our product for your special needs in the future.

We have introduced the new product SR5 : retractable braking system
It can be used for drawer of copy machine or kitchen shelf.
You can download the product brochure through HERE.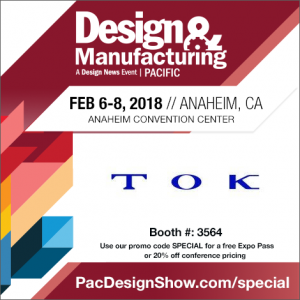 Join us at Pacific Design & Manufacturing in booth No. 3564 on Feb 6 - Feb 8, 2018.

Please feel free to have our sales rep as well as distributors for any questions or quotations.
If you would like more information, please contact us in advance through HERE to set up a meeting.

Use our promo code SPECIAL for a free Expo Pass or 20% off the conference pricing.
Click HERE to register your badge. See you at the Expo in Anaheim!